I paused for a few moments from my novel writing and glanced out the window and noticed an old man staring out his bedroom window from the memory care facility next to my house. I must admit, I usually forget (no pun) that it is there most days.
His weathered face, lines deeply embedded down his cheeks, spoke of his loneliness and despair. A blue shirt bright and fresh below his silver gray hair brushed backward inviting the outside world into his realm. The years of memories locked inside his head would reap volumes of stories and tales.
Bright sunshine illuminated the surface of the window with deep shadows behind him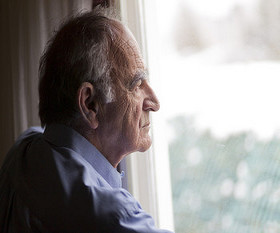 . It was if his face was planted on the window pane and darkness encompassed everything else. It made me wonder how marvelous the brain is and the opportunity we are granted each day to use the ingenious attributes of the most complex organ.
Thinking of my fictional characters in my story line and how I can leave them trapped within the pages with no way out. The old man is trapped inside his own body with no way out yet he waits. Like sea creatures at low tide waiting for the returning tides.
His wait will be eternal, no refreshing, no daylight, only darkness. One day his soul will be released and free. I cannot imagine not remembering. The scent of the damp salty air, the sounds of the crashing surf, the grains of sand beneath my feet. The prickly raindrops against my face.
The red sunsets and sunrises. The realm of nature in all its glory. My children and grandchildren. Smiles and tears. Joy and laughter. Some things I would like to forget. The bad times, the struggles and despair. Mistakes, illness and wrong choices. Failures and disappointments.
However, often it is those things that we would like to forget that allow the things we want to remember remain foremost in our minds. At least he has no worry of the painful past or the painful present.
The old man remained at the window for quite a while. Searching for memories of days gone by. I wish I could sit a spell with him and hear stories of long ago. He has a gift inside and doesn't know it. Unable to recall but sealed forever his precious gift is. Peace and comfort will be a new chapter one day.          ~Patrick Timm